Application:
PC corrugated board has the merits of good weather resisting property,impact resistance, high light transmission.It is widely used in the roof for warehouses and easy constructions, such as stadium, swimming pools, skiing fields, station rest pavilions and so on.
PVC corrugated boards has the merits of erosion resistance, workablity and low cost. It is widely used in workshops, warehouses,carports,sheds,agricultural and construction sheds,etc.
The corrugated PVC roofing sheets are weather-proof and provide protection against sun, rain, hail and snow. They transmit light softly and naturally. Additionally, they are non-conductive and non-inflammable. This kind of roofing sheets are available in various colors to meet architectural environmental or other needs. The filter sunlight softly create a bright and pleasant atmosphere. The smooth surface of these panels resists dirt accumulation, thus maintaining the panels visual appearance. Also the roofing sheets are liable and resist cracking, chipping and flaking.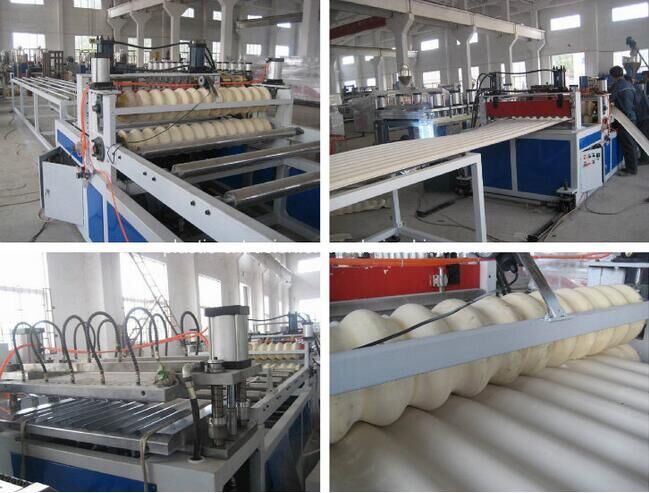 Main Technical Specification:
| | | | |
| --- | --- | --- | --- |
| model | SJ100-45-1800 | SJ105/33-1500 | SJZ80/156-1500 |
| material | PC | PP,PE | PVC |
| product width (mm) | 1400 | 1050 | 1200 |
| product thickness (mm) | 0.6-1.5 | 0.5-3 | 2-3 |
| extruder | SJ100/38-SJ45/30 | SJ105/33 | SJZ80/156 |
| output (kg/h) | 250 | 200 | 300 |